No, not the Tokyo Prince Hotel. The area I'm staying in at the moment is called Oji, "the prince." Even with all that has happened, I'll miss this place. Though I'd never heard of it before I discovered this guest house on the internet, it seems to be one of the greener areas of Tokyo. In fact, I've been to quite a few parks in the neighborhood and they are quite beautiful. I will miss this area, and would consider living here again if it weren't in this crummy, dirty, poorly maintained gaijin house.
Today I wandered west, and while I intended to take a break from creating my Japanese resume (takes a lot of effort!), I ended up spending about 3-4 hours checking out the local sights. I only have one good picture, as it's pretty difficult to get a good picture under the shadow of the trees. There were several waterfalls in this particular park, though this was probably the best.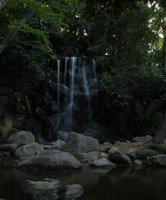 I did a lot of thinking under the shadow of those trees, and while I don't know what the outcome of those thoughts will be, I feel more relaxed than I have in a while.