~80 km/~50 mi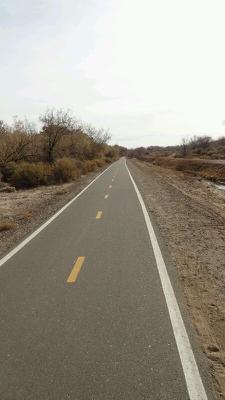 Did I mention how much I like the Albuquerque bike trails? I rode the entire length of Albuquerque from Corrales to south of the city without EVER RIDING ON A CITY STREET! What? You heard me. That's over ten miles, if I'm not mistaken.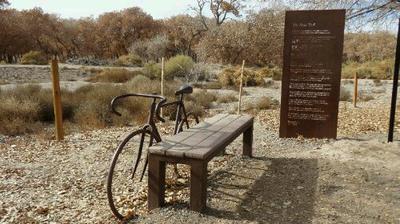 I got a very late start, stopped for some coffee and visited the local natural foods store to stock up, then rode along the Rio Grande out of town.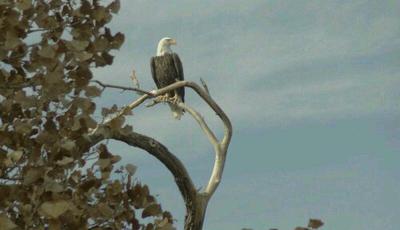 Along the way, somebody stopped me and pointed out an eagle who roosts in that certain spot every year. He was being harried by ravens but kept his cool. When I went back to listening to the Lord of the Rings again, Frodo was having his dream of Gandalf being carried off by an eagle; interesting coincidence.
Once out of town I was accosted by a crazy guy on a bike (not the good kind). He had a trailer, so I thought he was a tourer. But after he put his coke bottle down, he started yelling at me, I'm not sure what, I heard the word "American" every once in a while. I wasn't in the mood—I want to talk to everyone I see on a bike, especially those traveling, but this guy was obviously a bit off, so I moved on. I saw him later when I had trouble with my bike. This time he was calmer, but he just said "it's 24 hours, don't worry about it". I wished him luck and moved on.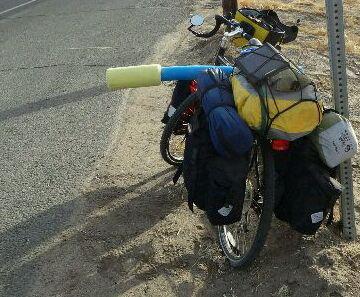 The road I was on for a while after that had no shoulder, so I decided to use the noodle Lori gave me. Maybe folks in the area were just more bike friendly, but they gave me a wide berth.
The rest of the day was fairly straightforward. I arrived at Tom and Pat's before dark. They have a fantastic place in a tiny community of four houses that overlook the Rio Grande from atop a cliff. Tom's a zoologist who has traveled all over the world, but spent a lot of time in South America. His wife, Pat, speaks Spanish very well and often accompanied him.
Tom and I chatted while we waited for Pat to come home, then they cooked a great spaghetti and shrimp dish. Tom let me sample beer a friend had made.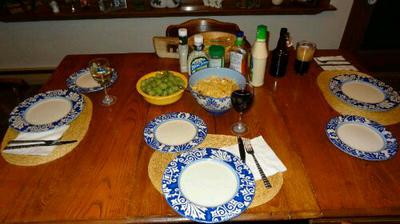 I met them through warm showers, a couch surfing site that focuses on bicyclists, so we had a lot to talk about. They've done a fair amount of cycling, particularly enjoying their tandem. We hit it off pretty well, I think.
Pat then remembered that they were going to a mariachi concert in Socorro, my next destination, the next night, so we made plans to go together.