The passage of time is subjective. This is pretty basic. It's interesting how differently you see time when you've been rambling from one campsite to the next, then spend days, whole days! in cities. I feel like I've been living in New Mexico for just over a year, but in reality it's been a week or so. I've been in Albuquerque for full on three days, but somehow my brain supplies memories counting much more.
Anyway, I have spent a bit more time here than I planned, and so I'm going to be on the run for a while. I've got a deadline to be in Twenty nine Palms Dec 25th at the very latest, and I've still got over a state to cover. Shouldn't be a problem, but no messing around is a better plan. Unless something good comes up.
I finally made it down to the Nob Hill district here in Albuquerque; having a mediocre slice of pizza and cheap beer before I make it back in the dark to Corrales. This area reminds me a fair amount of Westport, or maybe Athens, Georgia. Comfortable.
I've really been impressed by the bike paths here. They are actually commutable, by which I mean you could commute from one part of the city to another. If a bike path can't offer that then I think it is pretty much useless, recreational trails just reinforce the idea that bicycles should be compartmentalized and shouldn't be taken seriously as transportation for urban planning.
There are bicycle thoroughfares on the side of every major highway here, separate from the cars but leading to the same places. Most streets have a bike lane (though admittedly these are not particularly safe), clearly signposted. Kansas City, you could do this. Get over yourselves and become a modern city.
End diatribe.
Bob's son Aaron farms a bit in Corrales and we'd planned to head to his farm, but BOTH his cars were having problems so he was only able to show me pictures of the fall crop. I guess both the boys in the family are deeply involved in organic farming, I wish them the best in this changing world.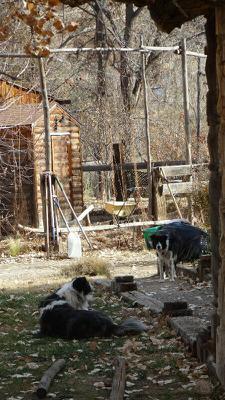 The Busers have dogs, and those who know me know I'm at best tolerant of dogs. These are well behaved for the most part, and handsome, but they must have caught a whiff of ramen packs in my gear, because they tore apart my bags to get at it. Nothing too bad: my sturdy panniers suffered no damage, but they took apart a stuff sack full of food and chewed on my Tupperwareish container. Life goes on.
Speaking of which, where to next? As I said before, I'm taking the southern route, which means heading to Phoenix. From here I'm going south to Socorro, then west to the Very Large Array and Datil. That still leaves the option of heading to Flagstaff and the Grand Canyon open, but most likely I'll head for Show Low, then Globe and Phoenix. I'm not committed to where I'll go after that, but maybe straight for the California border.
Thanks to everyone that has hosted me so far. It's really been amazing how gracious and open everyone has been. My trip is much more satisfying and full because of the people I have met, and I am grateful for it.