57 km/35 mi
I went again to the restaurant this morning, to get breakfast but also to take advantage of the free internet. See, I realized there was a bit of a problem with my planning: I was looking at going through Parker to Twenty Nine Palms, but that meant 110 miles and 1500 feet of elevation gain with no services and the possibility of nowhere to stay along the way. It might be that's no big deal, but I'm not really interested in risking it.
The other way means taking the interstate, though. I heard semis blasting through all night in Tonopah, so I thought there was no way California would allow bikes on such a busy road.
But I was wrong. I guess when interstates replace roads, as they often do in the southwest, they let bicycles use them no matter how busy they are. So I'm going to spend a couple of hours on I10 tomorrow.
Outside the restaurant an older man named Butch asked me about my solar panel and we talked about my trip. He seemed like a very down-to-earth guy, so when he mentioned that I could stay out on his land, I took him up on it.
Butch's place isn't far from Tonopah, so I only ended up doing 30 miles, though a quarter of those miles was gravel or, near Butch's house, "primitive road", as the sign put it.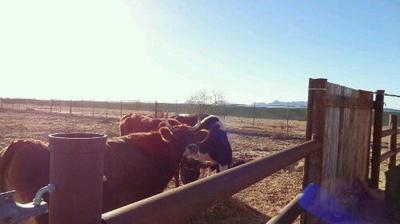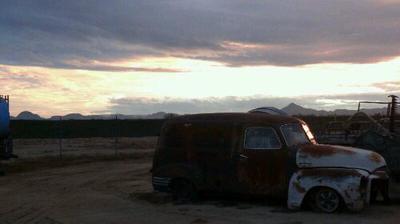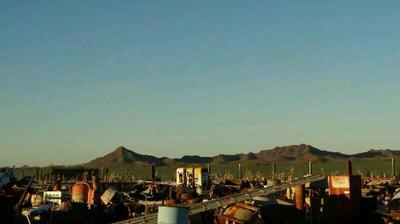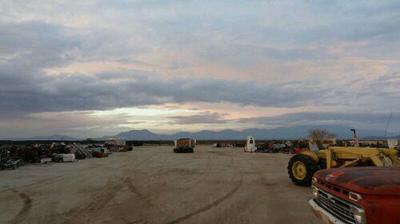 He lives in the desert with a few cows and a lot of scrap machinery. A lot of scrap machinery. He leads a simple life, eating mostly canned food, taking care of his cows, and sorting through the items on his land and repairing them. I guess he's had trouble with neighbors and the government about his land, but he's managed to handle it so far.
We spent the evening around his stove, and he told me stories he'd collected over his many years. He was a marine, a rodeo star, and a cowboy, a varied life. He'd lived life to excess by his own account, but he was humble and kind to me.
We sat there until it started to rain and get cold. We could see lightning—or maybe it was military drone practice—off above the mountains, and then the winds came. They must have gusted up to 50 miles an hour. Butch was nice enough to move his truck in front of my tent to try to block the wind, but the flapping kept me up until two or three in the morning.
The weird thing is, I seem to feel better when I don't get much sleep when I camp. Not sure what it is, but I'm usually less groggy than when I sleep in a bed.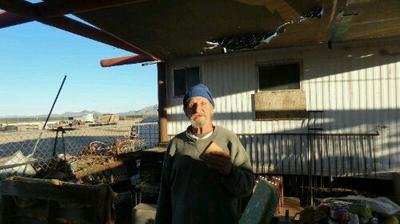 I woke up and had a burrito and Butch's mix of herbal tea, and he told me the story of Salome, the city I was traveling through. I guess the local patriarch, Dick Wick (didn't make that up), saw a girl in the desert dancing and named the new city Salome to commemorate her beauty. Whimsical. It's pronounced like "shalom", though.