I've just gotten back from a trip to Ha Ha Tonka, in the Missouri Ozarks. It took a week and almost 600 miles, and was quite an experience. (The map above isn't quite right in a couple of minor places).
I got the idea of going for a long ride after looking at pictures of friends back in Japan climbing mountains: I really miss the mountains there, mountains anywhere! As many know, there aren't too many mountains in Kansas, so I was out of luck locally. But if I went somewhere, say by bicycle?
I had originally thought about going to the Arkansas Ozarks; not the tallest mountains in the world, but still an interesting challenge. But I couldn't figure out a way to make it down there and back in less than a week, and any more time seemed just too long. I don't really know why, now; something about wanting to not spend too much time neglecting the job search. So I settled on the Missouri Ozarks, and one of the closest spots, Ha Ha Tonka, was also highly recommended, so that's where I set my destination.
I meant to leave two weeks ago, but the day before departure I grasped that I just did not have the right equipment for the job, and I used that as an excuse not to set out just then, because it sounded tougher than that I was just waiting until the temperature got below 100 F. So I stocked up on the correct equipment, studied maps, enjoyed the air conditioning and waited a week. I left last Sunday, August 15th.
I took a diary while I was on the road, so I'll just be copying that in here verbatim. It may get a bit wordy, so I hope you'll forgive any unnecessary length. I'll be putting each day except the first in separate entries as I get to them. The first is below:
Aug. 15
96 miles
La Cygne Lake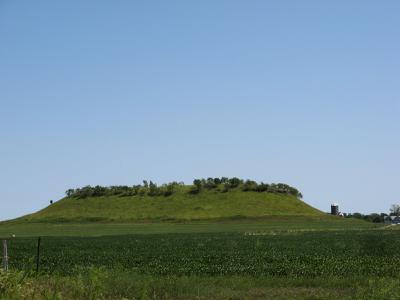 Today I worked my way to La Cygne Lake via the Prairie Spirit Trail. Relatively uneventful, with your standard eastern Kansas farm scenery. Soybeans, corn, cows and horses. And hay, lots of hay.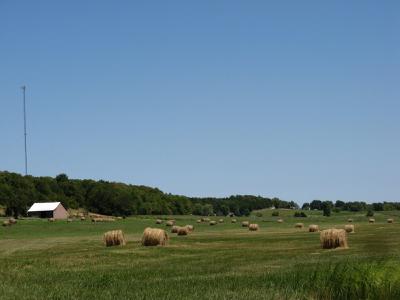 The Prairie Spirit Trail, from Ottawa to Iola, is quite an accomplishment. It runs for 51 miles free of automobiles, mostly a pleasant, tree-lined jog.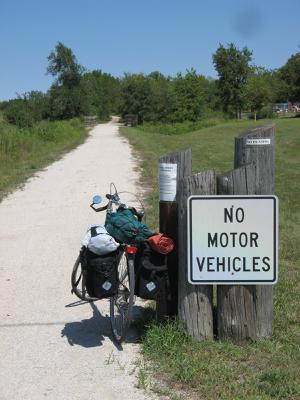 I wouldn't really take it again for a couple of reasons: it costs money (I'm happy to pay, once) and it is bedded with packed gravel. The gravel really slowed me down and I'd prefer the paved road running parallel and not half a mile away if I were to go that way a second time. But it is great for a relaxed outing, say with kids. I certainly don't want to detract from these rails to trail efforts; like Missouri's extensive Katy Trail, these paths are a step in the right direction, though I'd like to see more gas money going to it than coming out of my pocket.
From the Scipio trailhead of the Trail, I turned east for a straight shot to La Cygne (pronounced La Seen). This, again, was uneventful, until I reached the city of La Cygne near the lake of the same name that was built to cool a power plant and where I hoped to stay the night. I had manipulated Google Maps' surprisingly useful bike directions to make them avoid I-69 and, despite its better judgment, it led me to a gravel road. I'm not much for gravel with my narrow tires, so I walked the bike a few times, fell down and scraped my knee, and screamed more than a few times (it was late in the day and I was tired). But by the end of it I'd learned a bit (it's easier to navigate gravel at a slightly higher speed; at a slower speed the rocks throw off your momentum more, making it easier to slide and fall) and in the end it didn't take me all that long.
I have never been so happy to see smokestacks, though. As I've said, the lake was built to cool a power plant, so when I saw those familiar white and orange towers, I knew I couldn't be far from the lake and my campsite. I arrived a bit later at an unmarked campground, welcomed first by a live but burning tree and then by abandoned twins.
The tree was and still is a mystery: a well-constructed pile of kindling, sticks and larger wood meant for a camp fire was standing piled nearby, but a large fire had been lit in the bole of a tree. I was looking for my own campsite and that didn't look very promising, so I moved on.
The abandoned twins are a couple of black puppies that first hounded a couple of recreational fishermen until they scared them off, and who then came and begged in my direction. They've taken up residence here, near my campsite. They're actually pretty well-behaved, and I feel sorry for them. I say that because they are sleeping now and not bothering me.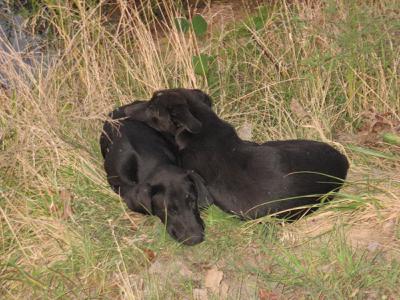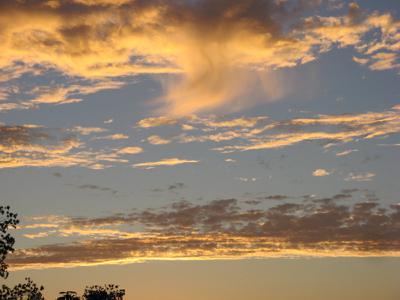 The coolest day this week is now cooling even more, and the sunset illuminates an odd, puffy formation of cloud. A near half-moon has come out, and it is a restful end to a mostly positive first day.