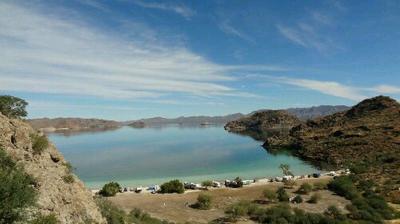 Emanuel and I were going the same way, but we parted early in the day. I was headed for playa El Coyote, where many bike tourers have spent time resting and enjoying the beach.
This might be partly because of Gary, "raven Gary" as he's called around here. Gary's lived his life to the full, partying and working the beach volleyball circuit in Brazil, bicycle racing, working as one of the most sought after raptor experts on the west coast, and wintering in Baja for over twenty years.
Like I said, I'd heard of Coyote from other cyclist's blogs. Beautiful, nice weather, friendly folks, and cheap. A great place to rest and decide whether I wanted to move on our not. I wandered in, and Gary called me over as soon as he saw me. He said I could stay in my own space for $5 a night or in a spot next to a mangrove, uh, grove on his spot for $2. You can probably guess what I opted for.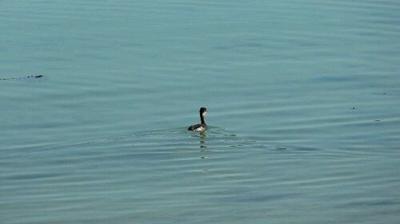 That was 5 days ago. Since then I've spent most days just sitting on the beach, watching pelicans and grebes disturb the glassy surface of the waters.
Gary is very generous, but he keeps to himself most of the time. Occasionally he points out a bird or two, tells me a couple of stories related to them. I guess he was quite a rabble rouser at one point, but now he's quit drinking and just focuses on his work, raptor research consulting, and his numerous hobbies.
Though he's seventy three, he still rides his bike, and he kept the pace when we rode 20 miles into Mulegé the other day. He's got a racing bike from Bruce Gordon, a legendary bicycle maker.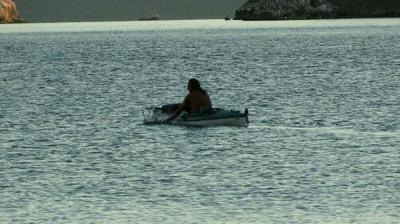 This morning he was called upon to rescue a manta ray circling near shore and suffering from anoxia. The beaches in the area get their "sand" not from stones but from algae that creates coral, just like the animals of coal reefs. When the algae die, they suck up oxygen and in shallow water can kill animals like manta rays that feed on the algae. Gary rescued one of these by throwing it in his kayak and paddling out to deeper waters. It was a remarkable sight.
The social center of the area is Bertha's, a restaurant bar on the El Burro property one beach over. I've been there a couple of times for a fantastic burger and some tasty enchiladas (can't recommend the fish tacos). Celia, who runs the place (Bertha is an older lady who now runs a nearby grocery; Celia is her former daughter-in-law), is talkative and gorgeous, I mainly go there to see her. But they also have a movie night, which drew half the population of the beaches nearby.
A real stroke of luck and the death knell for my trip came at Bertha's. Some folks passing through the area overheard me saying I had lived in Japan and we began talking. Later, when I was leaving, they asked about my plans and I said I was thinking of heading home. At that point there was a slim chance I might continue to the mainland and Costa Rica, but it was pretty clear to me I was running on fumes.
One of the group, Steve, offered to give me a ride back from San Ignacio. It's a long ways, maybe 500 miles, back to the border, so this was a very generous offer. I told him I'd think about it and email him later, but I was already pretty certain I'd take him up on it.
I emailed him a couple of days later, and we're leaving on the twelfth for Gonzaga Bay, then the border crossing at Mexicali and up to Palm Springs (I can't seem to get away from that place!). From there I plan to ride to Fullerton, where I'll pick up a train and take the same route back (mostly) that I took to get out to California. Except the first time it took me two months to get as far; on the train it will take thirty hours!
Steve will be taking a different route as well: we'll be following the Gulf of California (Cortes) most of the way, so I'll get to see a different part of Baja and Arriba California. The adventure isn't over yet!
My last night at Coyote, our neighbor had a birthday party, and he included me in the festivities. My role was basically to drink two shots of tequila.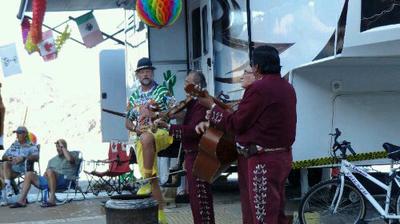 Pedro, the neighbor, is actually German and a horse trainer. He's got a lot of personality, as might be guessed.
After the party, I walked along the beach under the starlight, and found a little magic. The ocean was glowing, like fireflies were under the water! I guess there are bioluminescent organisms in the water that floresce when disturbed. It was so pleasant and unexpected it made me gasp.