Yes, that's right, I've rediscovered David Bowie. Certainly a genius, particularly with his Ziggy Stardust, but I won't go into that.
The truth is, a lot of things are changing/have changed.
I got a haircut...
My (shopping) bike was stolen...
I got a new one. I'm pretty happy with the new one, though I liked the style of the old one better. I got a deal, though, on the new one--for less than the price of the old one, I got six gears (the old one had only one), as well as a new-fangled light that is powered by magnets in the front hub that rotate as I ride. The old one had a light that operated on energy from a motor put in contact with the wheel, which would eventually wear down the wall of the tire. The new magnet technology is more self-contained, and even turns itself on automatically when it is dark!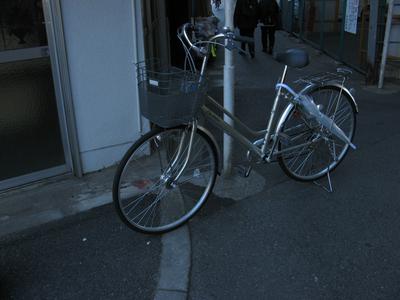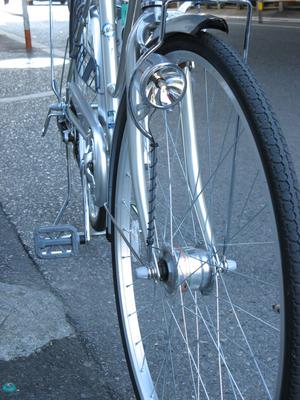 I've been without a shopping bike for a couple of months, and while I like riding my folding bike, the shopping bike is much more fun for just cruising aimlessly.
The biggest change, however, is that I will soon be moving. I've been dealing with a roommate for nearly six months who comes home drunk at 4 - 6 in the morning, slamming doors and often bringing friends in. I wouldn't care much, but through the wall between my room and his I can make out every word of their conversation. More recently, he has found a Japanese girlfriend, and two times this week, when they came home at two in the morning, she yelled at him for an hour before wearing herself out.
So I'm moving. For weeks I have been saying to myself "six more weeks," "five more weeks," and now it is finally down to days... four days! In four days I'll be moving into a beautiful new apartment in not-particularly-fashionable-but-cheap Nishiarai, home to one of three special temples in Tokyo (I don't know why they are special...). It's near my place now, but there seems to be a bit more going on.
One odd thing about the new place is that all of the gas stuff uses propane--that's right, propane. The same stuff that's used for barbeques and that you see in huge tanks in rural Kansas. But this is Tokyo, in a decidedly non-rural area (I think the population of Adachi, the ward I live in, is somewhere around 700, 000, just a bit less than San Francisco)
Apparently, though, not only are houses equipped with tanks of propane in areas of Tokyo, all of the taxis in the entire city of Tokyo run on propane. That was a shock, and unfortunately I can't remember my source...
But what surprises me most is that in such an earthquake-prone area they have such obviously unsafe storage as the tanks below: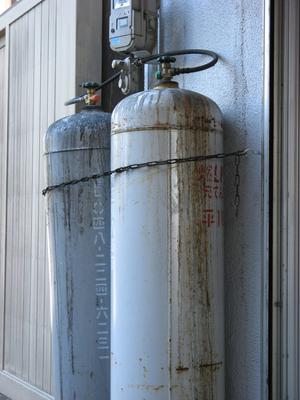 That is an explosion waiting to happen; but now that I've been made aware of it, I've noticed these tanks are everywhere. I guess maybe that tiny chain strung across the two tanks will be enough to stabilize them in case of a localized earthquake. Let's hope so.