I'm a bad tourist. I don't plan places I want to go. I don't really want to go anywhere. I want to do my laundry, maybe eat some good food, wander around aimlessly, hopefully find someone interesting to talk to, or find something magical without looking for it.
That's what I did in Santa Fe. I woke up, had some coffee with Christy, then I wandered downtown. I had planned to do some hiking, but I got a late start so I just went to the grocery store, looked at a couple of galleries, went to a deli (I eat constantly, but have lost 15 pounds), then went back to Christy's warehouse/studio/loft/garage, thinking I might do laundry.
Christy invited me to go out with her and some friends to "Final Friday" (Santa Fe has both First and Final Fridays, I guess). I skipped laundry, worked on the blog and plans, and then we went into the city.
The art was ok, nothing too exciting. I had a good time talking to Christy's friend Julie, a biking enthusiast. Her husband, whom I met later, works for a bike parts distributor, and they were really great to talk to. Julie had just seen Joan Jett. She said she looked the same as ever.
We went to the Cowgirl or some such and had dinner and a few beers. They were big fans of the hoppy IPAs I used to love but now can't drink; I got a few mediocre nut browns on special. We had a good time dominating the jukebox and talking about 80s music (it's been a while since I've been out with folks my age).
We then went to Julie and her husband Mat's house. Mat set me up with some parts I needed (the seatpost clamp is perfect, thanks Mat!) and showed me his array of bikes. He was mainly a mountain biker, but had just bought a carbon road bike that weighed about as much as a toothpick and was loving it. He recommended getting sealant for my tires so that I wouldn't have as much trouble with flats. I later took his advice.
The next day I decided to commit to at least one touristy activity, so I decided to go hike nearby Mount Atalaya.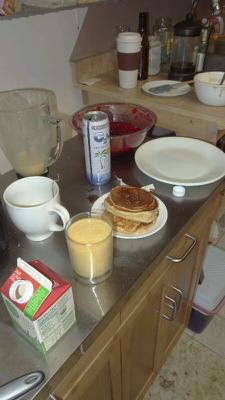 First we had some pancakes, tropical smoothies and coffee, then I went to Mellow Velo bike shop to discuss sealant. Kenny there was very helpful and set me up with sealant and chatted with me about my trip and his hiking and biking experience. It's been really great to meet these people who have such extensive experience traveling, hiking and biking. Inspirational.
Armed with sealant and confident I'd never have another flat (right?) I headed towards the foothills for a hike.
It felt great to get some hiking in. Hiking is so much simpler than biking, especially day hiking. It's been a while since I've done a steep hike (Black Mesa was mostly flat land), so it felt good to climb. Atalaya wasn't too tall, and I reached the top in a little over an hour. Nice view of the city on one side and another ridge on the other.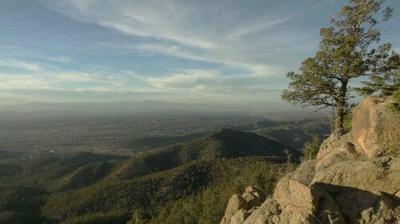 I felt like cooking after the hike, so I made a lentil and onion dish with some cod, and Christy and I shared our musical tastes over the (honestly bland and mushy) result. It was my last night in Santa Fe.