118 km/73 mi
A few days ago I prided myself on planning out the entire rest of my stay in the US, at that time about 11 days. Here's how many of those days will work out as planned: 3, if I'm lucky. So much for planning ahead.
I was going to go to San Clemente today, but the weather report said 20–30 mile per hour winds, and I knew it would keep me up all night. So that was out. I scrambled to find Warm Showers hosts, but no such luck. However, one Warm Showers wasn't able to host but did give me an idea.
They mentioned that Carlsbad state beach might have discounts for people hiking and biking in. Didn't help with the wind... or did it? In fact, Carlsbad was supposed to have slightly calmer winds. It meant a long day, but I decided it was the best idea. And hey, maybe it would be cheap and I could stay a few days! Yippee! It'd be nice to take a rest and enjoy the ocean.
So I set out for the fabled Pacific Coast Highway, and spent the day (mostly) next to the ocean. It's nice to see it again, spreading out to the horizon. The cities I passed through are pretty famous, too: Laguna Beach, San Clemente, Oceanside.
In Laguna Beach, a young woman in a car called out to me "Welcome to California", then "Welcome to Laguna Beach", I guess realizing I might have come from elsewhere in California. I passed her stopped at a stop light and said "Thank you"; when she passed me again she said "Have fun!" Then she was gone. Later a guy who looked like Ad Rock from the Beastie Boys at 17 said "cool man!" with a big smile as I rode past.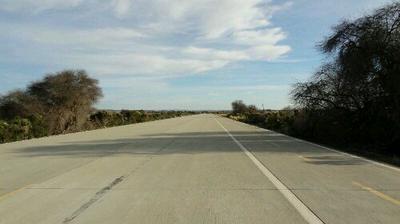 Past San Clemente is Fort Pendleton, a huge military base. Highway 1 merges there with interstate 5, but bicycles have to follow the old highway 1, and unlike the limited-access interstate, this highway meets the base itself. It's very nice because the road is almost entirely given over to bicycles, but there are places where IDs are checked and it feels a bit unsettling. The army man who checked my ID didn't really look at it, just asked where I was going, that day and at the end of my trip for curiosity, I think, not officially.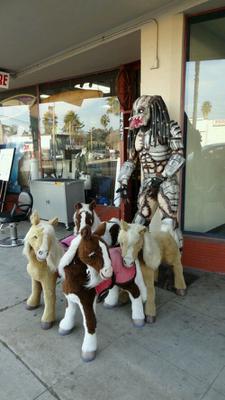 I sped though the less glamorous towns of Oceanside and Carlsbad, looking for the beach campground. When I reached the campsite, I was shocked at the fee. $35 for a site near the highway, $55 for one near the ocean? What? RVs have really ruined camping. But the guy at the gate said I could stay in a hike and bike spot for $6, and that sounded better. Or not. He realized that it wasn't this camp, but another camp further south (he worked at both) that had hike and bike camps.
I was really tired and hungry, and I felt really despondent that I had to go another seven miles in the dark. But it was worth it for such a cheap campsite, and in the end it really wasn't far.
And indeed, San Elijo campground did have hike and bike sites, and for six bucks! But only for one night, and I have to leave at 9, can't stay in the hike and bike site for another 48 hours. Blah, nothing without a catch.
Encinitas, nearby, is a nice enough town, with a little more character than the other seaside cities I passed through. I'm glad I came down here. The funny thing is, I'm now closer to the Mexican border than to Irvine, where I started the day!