I've been doing a lot of walking at night. I spend most of the day looking for jobs, telling myself I'll go out and see the city as soon as I get that... last... email sent. By the time I end up doing that, however, it's already 5, which means I'll be going out at night.
So I walk around after dark, taking photos and thinking. I've found taking photos is particularly relaxing because while I'm sightseeing and discovering new parts of the city, taking pictures for myself and others, I get absorbed in that and forget that I can't find a job and that in less than three weeks I might actually get on a plane and leave this place.
Here are some of the fruits of my nighttime travels. Unfortunately I'm not very good, so many of the photos are slightly out of focus, though at the size you'll see you can't tell very well.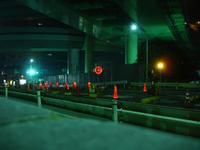 This first is of night construction going on near the place I'm staying. Not all that interesting, I suppose, but I like the glow in the dark traffic cones. That red circular thing, though you can't tell, is actually a rotating light to catch your eye.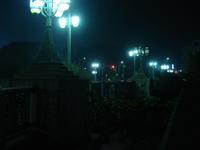 Next, these are some lamps at a bridge near my apartment, a bridge called "no sound bridge." I've walked under it, though, and it makes echoes just like every other bridge I've seen/heard.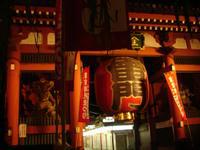 Last in this collection is Kaminarimon at night. Not only is this a very famous site in Japan, it's a gate dedicated to Thunder! How can you beat that! Unlike the other two, this is quite a ways from where I'm staying, in an older part of town called Asakusa (wet grass).