My time at the RV park in San Lucas has been one of the highlights of my trip. Royce and Sue were so giving, so friendly, and we had similar interests and senses of humor. After a couple of days I felt like we'd been friends for life.
But I wanted to move on. I went looking for Morgan yesterday, but he had gotten a ride to Mulege already. The funny thing is, as I made my way over to where Morgan had been staying, another cyclist, Emmanuel from Quebec, showed up. We talked a bit about his trip, then planned to meet later. He's headed to Chile, so we had something in common.
I had dinner with Royce and Sue again, and once again we had a few too many. But their stories flowed like wine, and Baja midnight (9 pm) came too soon.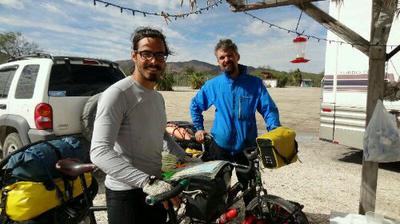 Emmanuel was up for a ride down to Mulege the next day, so I had my first ride with another cyclist. He was trying to get to La Paz in time for the ferry to get to Mazatlan for the long weekend to hang out with a friend, so he had a tighter schedule than I. But we could pass the day together.
The wind was at our backs and the scenery was beautiful. Emmanuel and I had similar speeds, so that worked too.
It was a quick ride before we got to Mulege. At first Mulege was a bit of a disappointment. We stopped for tacos, very good, at a roadside restaurant. Emmanuel speaks Spanish fluently (his father is Chilean), so he talked with the cook. I listened, and could understand a great deal.
We moved on. Emmanuel was trying to find a bank. We went in circles for a while, then found a coffee shop owned by some gringos. It was a pleasant little place with real coffee (unlike the dehydrated coffee so popular here).
Here Emmanuel found out his plans to catch a ferry tomorrow were impossible, mainly because there wasn't a ferry. So he's going to try to get to La Paz by Sunday, when there actually is a ferry.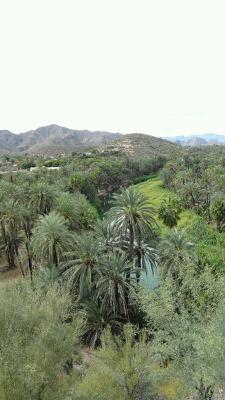 He got to the bank, then we crossed under the highway bridge. We found ourselves in a remarkably beautiful area full of date palms that made me think more of Viet Nam than Mexico. There was a water purifier as well as a small clothing market tucked away down here, and I picked up a towel from the market. We took a steep hill back up to the highway.
Next we were headed to Bahia Concepcion to find a beach to stay the night. It was a beautiful ride with healthy looking saguaros, ocean, and mountains all in one package. We had to work for the first time, making our way up hills, but we were rewarded with beautiful views.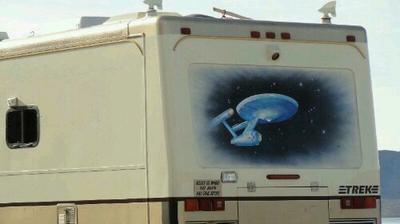 We got to Santispac, a beach recommended by several people. I paid for a spot, but Emmanuel found a place a little further on we could camp for free in a beautiful area, and with some doubts I agreed.
We went and had some beers at restaurant on the beach, then talked to some folks from Edmonton. They were very interested in our journeys, and asked us a lot of questions. After a while, though, one of them got a little abusive in a conversation about Quebec's desire to secede, and Emmanuel and I decided to head back to our site.
We had a fire and some tea under the most starry sites I've seen yet.