1/25
I'm currently stuck at the campground from last night: the first serious rain I've encountered started early this morning. I still haven't seen anyone from the Rancho, but I'm going to stay until the rain passes or they kick me out.
Later: still raining at 2. Guess I'll be staying another night! It's been a pretty relaxing day with nothing to do. Just hope the rain stops by tomorrow. I had to move my tent because a nice river had formed underneath it.
1/26
54 km/34 mi
Most of my stuff got wet during the night, but nothing was damaged. I knew I didn't have far to go, so I sat around, hoping to dry out the tent in the wind.
When I got out of the tent I found there was an RV there. I talked a little to the man as I hung up my tent in a nearby pavilion (where I could have set up my tent, safe from the rain the following day, if I'd thought of it...). Later his wife came out to walk their dogs, all strays they had found in trash dumps and other places. She and her husband had been coming to Baja for years and she had some very good advice about what to do. It was nice to chat with someone after sitting in my tent by myself for a couple of days.
They left just as the rain started again. Luckily, it didn't amount to much, so I got wet but not drenched. I picked up my tent and headed out for Ensenada.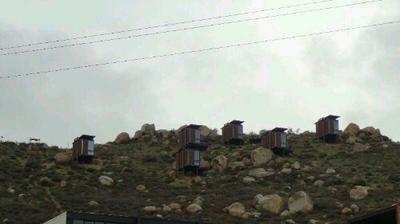 I had noticed some strange buildings on a nearby hillside when I first got to the campsite. I wish I'd taken pictures then, in the sunlight, but I was too focused on figuring out what to do about camping at the time.
I later found out these are cabins in the "Encuentro Guadalupe anti resort". Pretty interesting stuff, 200 sq ft rooms with luxurious interiors and specially designed with views of the surrounding vineyards unobstructed by the
other cabins. Food is made by the Tijuana culinary school. Sounds like a pretty unique experience, I just wonder how you get up there.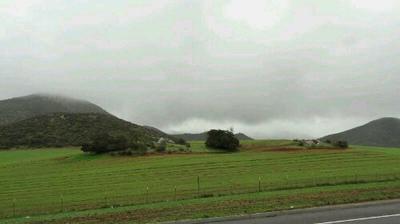 The road to Ensenada was pretty fantastic most of the way. I've heard horror stories, and maybe that's true in central Baja, but everyone was very courteous. At one point, it was really foggy and I was riding around a blind curve; I thought "this is where I'm going to die". I wasn't serious, but it was pretty scary. I looked back over and over, trying to make sure I was seen, and I kept seeing the same car. I couldn't understand why he didn't pass—though on this hill I was going over the speed limit. Finally it sunk in: the driver was protecting me from other cars behind me! He drove by when the danger had passed in his beat up old car and honked: I waved because I had no other way to express my profound gratitude.
Outside Ensenada, in what seemed to be a sort of industrial district, the road deteriorated to mud for about a block, I guess it was under construction.
Then the 3 met up with the 1, which comes down from the one in San Diego through Tijuana. There were quite a few semis, but I felt comfortable. In fact, the closer I got to the city the better I felt. There was an energy I've felt in Bolivia and in China, a sort of lively wildness I'm sure other travelers are familiar with.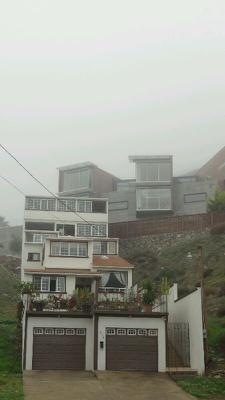 My first goal was to find the city center and an internet connection to contact my couchsurf host; then I wanted some food and to change some dollars. I quickly found an American fast food joint that has internet connections in the US. I was starving, so I ordered some crappy food and got some pesos in return; two objectives fulfilled. But no internet! I went to a famous US coffee joint across the street: no luck there either.
I decided to check out a second option, a backpacker hostel near the center. I didn't plan to check in yet, but I thought there must be an internet cafe nearby. My luck was good: I found both the hostel and the cafe.
The cafe owners were very nice and let me park my bike inside the building even though it was covered in sand and mud. I spent about an hour checking in and found my host had left her address and phone number, so I headed to her home and found a public phone nearby. I called and we worked through our broken Spanish and broken English to agree to meet at her place in an hour.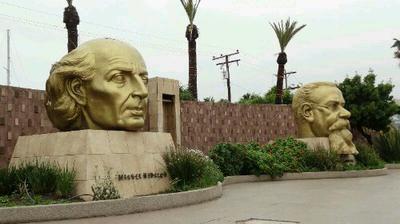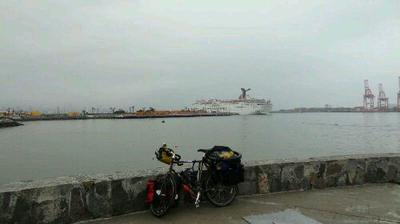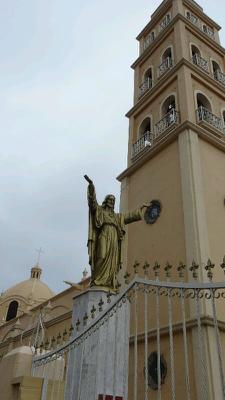 I headed back to the malecon, by the ocean, to do some sightseeing and wait. There was a cruise ship at the port, and it sounded like everyone on it was drunk and yelling. I can't imagine how they were having so much fun, but more power to them, I guess.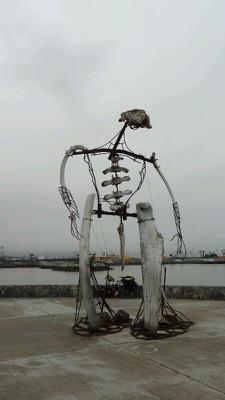 There was a statue of a "whale man", an ambassador from the terrestrial and marine flora and fauna to us humans. He was constructed to make peace with us, but he wasn't prepared for the deserts and died along the way to reach us. That's what the placard said.
I headed back to Ruth's (my host) and got lost, so I was late. But she let me in and we sat and talked for a bit. I felt (feel) like a real moron because my Spanish is so bad, though I'm surprised how much I understand when I try. Speaking is pretty much useless, though. But I guess I probably speak better than a lot of Americans who come through.
After I'd internetted and she'd watched some TV, she asked if I wanted to go to the supermercado. Envisioning a fabulous Latin American market full of exotic sauces and delicious food stalls, I said yes.
We ended up at Wal-Mart! Well, that was ok, too. It was very similar to Wal-Marts in the US, though I found it surprisingly expensive. We wanted around a bit and they bought their groceries.
Then they took me on a night tour of Ensenada. We went first by the bars: I would have liked to stop in, but that probably want the best time. Next they took me up this scary steep hill to a community of high class homes with a fantastic view of the city. It was beautiful at night, I would love to see it on a day when the sun was out.
They then took me to a taqueria, where I got carne asada with tripe. Yum!
I went to sleep pretty soon after that.
I have decided to take a bus to Santa Rosalía on the Cortes coast. The central desert of Baja sounds pretty, but I want to get to a place to indulge myself for a while. Maybe I'll come back some day, maybe with a friend, and try the desert, but for now I want the beauty of the coast and (hopefully) the company of other travelers.
It's overcast today, so I haven't done much, but hopefully the sun will show itself tomorrow and I can take in a bit more sightseeing before catching an overnight bus.