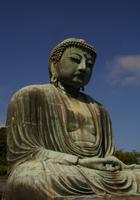 Went to Kamakura shrine yesterday. The Daibutsu of Kamakura, the Great Buddha, has been a part of my consciousness since I was a child, so to actually see it after all these years was quite an experience. It isn't as big as all the pictures make it seem, but that's not really a bad thing. It is more friendly that way, I think.
There is actually quite a bit more to the Kamakura area than the Daibutsu, however. There is a temple to Hachiman, a common god in Japan, which is nice, though the main thing I enjoyed was that they had just constructed new sections to the temple and the unfinished pine smelled wonderfully. Very often temples in Japan are left unvarnished like this, in contrast to the laquer that is applied to the wood in Chinese style temples. I find it much more elegant, though of course the wood rots much quicker. But that's part of life, and this concession appeals to my aesthetics, and always has.
There is also a beautiful temple to Kannon near the Daibutsu. Kannon is a Bodhisattva who has promised to save all living beings from suffering before he/she enters Nirvana her/himself. Kannon, called Kuan Yin in China and Avilokitesvara in Sanskrit, is usually female in China and Japan, though male versions, like those in India, are also found in Japan.
The temple grounds have a fantastic garden and an associated section for Jizo that commemorates children who have died either through miscarriages or abortion. This picture of Jizo is from another temple and doesn't show the impressive number of tiny Jizos at the Kannon temple, but gives you an idea of how Jizo is often portrayed - like a child with a beanie cap and a bib. The paper streamers on the right are actually thousands of tiny origami cranes.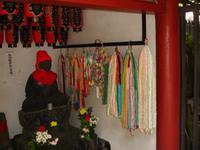 I'll have to add the pictures of the Jizos from the Kannon temple later.
EDIT
Here's the photo.