Yesterday was my friend Yuko's birthday, and so after my day of wandering around Shinjuku, I went to meet her and her friends for a pasta dinner and beers. We had a good time.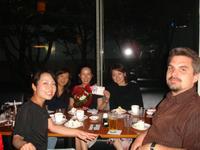 Left of Yuko is Sachi, another friend I met in San Francisco. The other two, Kaori on the left and Su on the right, are nurse friends of Yuko's.
While I say we had a good time, I was a little frustrated by my inability to effectively communicate with them. Though my Japanese is good enough to hold fairly uncomplicated conversations, it is often very difficult to clearly express myself. There were a few misunderstandings, some of which may have caused undesireable impressions. In any case, though, we did have a good time, and I'm guessing I didn't alienate them too much :).
However, a little bummed that I was having these difficulties, after I parted company with my friends I was called a "gaijin" (foreigner) for the first time and that brought me down a bit more. It was just silliness - drunk salarymen making an obvious observation, but it still made me feel like an outsider, a feeling that had already shown itself when I had such a hard time expressing myself earlier in the night.
I feel much better this morning, and I'm off to see the old side of Tokyo, in Asakusa. I'll also be visiting the Matsuo Basho museum, which I'm pretty excited about. I'll have pictures later.